Prevention is better than cure
The Smile Centre team is passionate about giving patients the means and the motivation to smile at the world confidently. We believe that the foundation of a healthy smile is a good oral hygiene routine using the right toothbrushes and interdental cleaning products. Understanding that one size does not fit all, our fantastic team of hygienists is able to customise your oral care routines during your thorough 30-minute appointments by advising you on the best brushing techniques and health care products.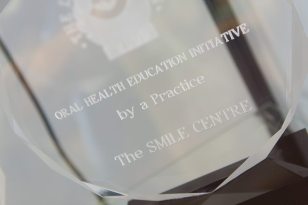 Our hygienists are equipped with all the latest technology including intra-oral cameras. The cameras are fabulous educational tools that show you the inside of your mouth and help you to see where you perhaps don't clean properly or the consequence of a poor oral hygiene routine. We also make good use of a superb system called Airflow; a jet polishing system ideal for removing stubborn stains caused by red wine, smoking, tea and coffee. Airflow treatment leaves your teeth feeling smooth and clean, and your mouth feeling very fresh.
We believe that confidence grows from solid foundations in the form of healthy teeth and gums, and fresh breath. By creating a pleasant environment in your mouth your general wellbeing is improved and you are helping to maintain a healthier heart and improve control of diabetes. And let's not forget the wonders it can do for your social life! Who doesn't want to be kissable?
The benefits of dental hygiene
Helps keep your teeth healthy for life
Helps reduce the risk of gum disease, decay & tooth loss
Helps keep your breath fresher
Reduces bad tastes & bad smells
Reduces the risks linking gum disease & serious illnesses
Achieving oral health and wellbeing requires the collaborative efforts of our hygienists, dentists and you. Determining a personalised treatment plan will help us to identify your aspirations and work towards their fruition using a holistic approach.
Visiting the hygienist should be an important part of your overall health routine, especially as research links gum disease to arthritis, heart disease, strokes, diabetes, lung disease, stillbirths and premature and low birth-weight babies.
So if you want a dental hygiene appointment, a confidence boost, or you are a patient who does not have access to hygiene services with flexible choices, or if you haven't been to the dentist for a while and would like a professional clean, please get in touch to book an appointment or call our dental clinic in Liskeard on 01579 342348.