Clear Vs Metal Braces
What is a clear brace?
The market-leading clear brace is Invisalign – a totemic improvement in smile-correction dentistry. Clear braces are better and more convenient than metal braces, in many ways, although metal braces still have their place, especially for more complicated remedies. Unlike the traditional wire and bracket design, Invisalign uses a progression of clear, removable trays, which correct the alignment of your teeth over time. 3D technology even enables the wearer to predict and track results.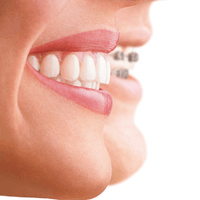 What does Invisalign look like?
Unlike a metal brace, the appearance of Invisalign is discreet. The trays are clear, invisible from a short distance or even from close up, unless someone's really looking closely – an especially important feature for teens and young adults.
Is a clear brace safer than a metal brace?
Fixed metal braces can develop sharp, protruding sections of wire, resulting in nasty injuries during a game of sport. Invisalign trays are smooth, and custom made to fit your teeth! Alternatively, Invisalign can easily be removed before a game and popped back in afterwards.
Will Invisalign restrict what I eat?
Invisalign trays can be removed before eating, so you don't have to worry about food getting caught in them. All that sticky stuff you have to avoid when wearing a fixed metal brace can be back on the menu! Just remove the tray and tuck in!
What about cleanliness?
Metal braces get all kinds of debris caught in the wires, but clear braces are easy to clean. Simply remove the tray when you brush your teeth, rinsing it with a special solution.
Will using a clear brace mean more appointments?
Invisalign trays typically need checking after six weeks of wear, whereas metal braces can require more frequent maintenance. Invisalign trays are so effective that for some, the whole process can take as little as 7 weeks.
Will Invisalign affect my speech?
Metal braces can have a slurring effect on a person's words; most Invisalign patients report no effects on their speech whatsoever.
How much does Invisalign cost?
Consultations are free at our Invisalign Open Days or can be booked at your convenience for £160. Prices can range from £1500 to £5000, depending on the extent of the treatment. We also provide interest-free financing to help with budgeting, so you can spread the cost.
How do I get started?
Get in touch to book an appointment or call our dental clinic in Liskeard on 01579 342348.
---