Do Dental Implants Hurt?
Our dental practice, based in Liskeard, offers state-of-the-art dental treatments. Teeth whitening, dental implants, teeth straightening – there's so much we can do for our patients, reviving and restoring your smile, or correcting past problems.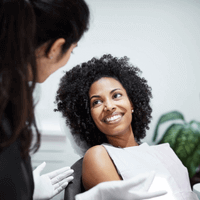 Today, we're looking at dental implants. A restorative treatment like no other, these clever false teeth can fill gaps in your smile and return both bite and chewing function. If you're still in the dark about tooth implants, don't worry – our article answers some common questions about them, helping you make an informed decision.
What are dental implants?
As we've mentioned, they're false teeth. They're matched to the colour of your natural, remaining teeth for a seamless look, and are made of porcelain, known for being a hard-wearing and realistic-looking material (it's the same thing crowns and veneers are made of).
Why have tooth implants?
Some people feel embarrassed about gaps in their smile, and others find it hard to manage with normal biting, chewing and other functions if they have multiple missing teeth. Tooth implants are convenient, realistic, durable and long-lasting, restoring your smile to its former glory (and your confidence, too).
What happens during dental implant treatment?
The process involves various steps:
Consultation: this is an assessment of your smile. We might take moulds, impressions or scans of your teeth, and we'll examine your teeth in detail, too. It all helps check whether the treatment is suitable for you. It can also identify any concerns, for example, gum recession, which may need to be treated (if possible) ahead of dental implants.
Treatment: The treatment is carried out under anaesthetic. Although tooth implants are classed as a type of surgery, it's a minimally-invasive procedure and generally free from complications. The tooth implant is placed in two parts, root then crown, with the metal root inserted first. A period of healing is needed in between.
Aftercare: During the healing period, and after your crown placement, you'll need to follow aftercare advice. Your dentist will talk you through this in detail.
Do tooth implants hurt?
The surgery itself is performed under a local anaesthetic, so you won't feel any pain at the time, but you may experience some discomfort or soreness afterwards. Usually, over-the-counter pain relief is all that's needed to manage this.
What about cost?
Although dental implants might be expensive on the surface, they can be a one-time cost as, with the right care, your tooth implants can last a lifetime. If you're concerned about cost, talk to us.
Are tooth implants easy to care for?
Absolutely: just brush and floss as you would normally, and don't forget regular dental check-ups.
How do I book?
Interested in our dental implants? Booking is simple at our Liskeard dental practice, simply get in touch via our contact page.
---