Root Canal Aftercare
So you've had a root canal. How do you care for your tooth following the procedure, and is there anything you can try to prevent treatment in the future? In this post, our team of Dentists from our Liskeard dental practice, The Smile Centre, talk through what's involved.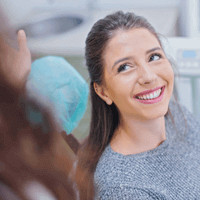 Root canal: in short
A root canal involves accessing the centre of the tooth, to treat an infection in the pulp (a bundle of nerves and tissue that keep your tooth alive). A small hole is made for the Dentist to get inside the tooth, remove the infection and clean and seal the tooth with a filling.
If an infection is left, complications can arise, such as a dental abscess. It's important to have your tooth treated as soon as possible. If an infection sets into the same tooth after treatment, you may require a different type of treatment, called Endodontics.
After your treatment
Once you've had your treatment, there are a few easy steps to follow:

* Manage pain with over-the-counter relief, such as paracetamol or ibuprofen
* Do NOT chew any hard foods, which could cause more pain
* Avoid smoking. This can inhibit healing, as well as cause oral health problems
* Check your diet to reduce sugary and hard foods, and brush and floss regularly
Preventing root canal
Our Dentists say prevention is always better than cure, and it's important to look after your teeth properly if you want them to be healthy, strong and life-long. Oral care, regular check-ups and cutting back on smoking and sugar intake can all make a difference to your smile. Finally, hard foods and habits like chewing ice can cause damage to the tooth.
More information on root canal treatment
In our previous post, we outlined everything you need to know about a root canal treatment, covering common questions, the procedure itself, and complications that might arise. It's key to remember that 90% of treated teeth last up to 10 years.
You can also contact us to discuss treatment and you can find plenty of resources on the internet that detail more about the root canal, such as the NHS.
Book in for your root canal treatment today
Here in sunny Liskeard, our family-friendly and experienced Dentists are looking forward to helping you with your dental problems, giving you a healthy, happy smile you can enjoy sharing once again.
To enquire about our root canal treatment or to book in for the procedure, simply get in touch we'll secure an appointment for you.
---