What To Expect From A Root Canal
If you're experiencing pain and sensitivity in your tooth, an infection at the centre may be the cause. If this is the case, your dentist will recommend root canal treatment. Here at The Smile Centre, your local Liskeard dental practice, we work hard to make our patients feel as comfortable as possible during your treatment. Here, we give a guide to what to expect from a root canal.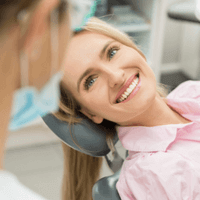 How long does it take?
Root canal treatment usually takes a couple of appointments, but if it's especially complex, you might need to refer to an Endodontist (specialist).
What's involved?
– The first stage of your root canal treatment may involve taking X-rays. This helps your Dentist to assess the tooth and pinpoint where the infection is,
– Depending on the situation, an anaesthetic may be used to help numb the area.
– Your Dentist will then access the tooth through the top and remove the infected pulp at the centre.
– If your infection has caused a dental abscess to form, your Dentist will also treat this for you.
– The next stage of your root canal treatment is to enlarge the root canal, which will then need to be filled.
– Finally, the tooth is sealed with a filling.
– For some patients, a crown may be recommended by the Dentist to further protect the tooth.
What if my tooth breaks?
It's entirely possible that despite our high-quality care, your tooth may break following the procedure. There's less chance of this happening if you keep up a good oral health routine, with regular check-ups at the Dentist. And, bad habits like chewing could affect the tooth, so it's best to avoid or overcome these. Finally, if you only have a small amount of natural tooth left after the procedure, you may be more susceptible to breakage.
Can my tooth be reinfected?
Yes, unfortunately, this does happen in some cases. This may require another type of procedure, called apicoectomy, where the tip of the root is removed to access and remove the infection. Your Dentist can refer you if this is necessary.
What's the success rate of the procedure?
It's incredibly high, with 90% of treated teeth lasting between 8-10 years. Of course, this may depend on having a crown fitted at the end of treatment, to support and strengthen the tooth. You can discuss this with your Dentist.
What are the complications?
Any treatment comes with risks and side effects. With a root canal, you may experience discolouration of the tooth, or breakage of the tooth. For discolouration, teeth whitening may be a good solution.
Book in for your root canal treatment today
Our friendly team of Dentists here at our Liskeard dental practice look forward to treating your smile today. Get in touch to find out how we can help and we'll secure an appointment for you.
---