How To Clean Dentures
Dentures are false teeth that look and act like the real thing – and lots of our patients have enjoyed renewed confidence, restored appearance and even a better quality of life thanks to this handy dental apparatus. But how do you clean and care for your dentures? What should you avoid? What should you do more of? Our Liskeard dentists explain all in today's blog.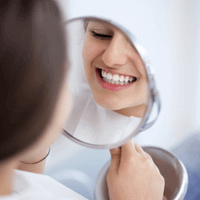 1. Cleaning
The most important thing about looking after your dentures has to be cleaning them correctly. This can involve the following:
* Rinse and remove: this step is important when you want to eat a meal or snack. Just cold tap water is fine, and can help to dislodge any debris or food particles that may have built up over the surface of the false teeth and in the crevices between the teeth.
* Clean your smile: make sure you clean your mouth, gums, cheeks, tongue and palate with a soft brush. This can also help to remove denture adhesive.
* Soak and brush: with the same soft-bristled brush, carefully clean your dentures and clean any grooves in them too. Denture cleaner is great for soaking your apparatus – our dentists can recommend a good brand.
* Soak overnight: pop in a glass of water or mild solution while you sleep, but again, chat to your dentist – they may have specific recommendations about the apparatus you have.
2. Caring
There are lots of steps to take when caring for your dentures. Here are a few our Liskeard dentists recommend:

* Schedule check-ups: these can help check the fit of your dentures and resolve issues with slipping or any discomfort. It's also a great time to pay attention to the health of your mouth, teeth and gums.
* Store and handle: be sure to keep dentures in a case when not wearing them (unless they're being soaked) and take special care around any clips or clasps, especially when you're cleaning them.
* Clean correctly: make sure you use cold or warm water, not hot (which could warp their appearance) and avoid any solutions with whitening, abrasive or bleach ingredients. These could damage your dentures.
Book in with our dentists today We'd love to help you get the best out of your dentures. For any help, problems, concerns, or to sign up for denture treatment, just get in touch with our team here in Liskeard today
---